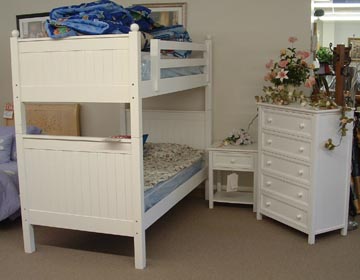 Jimmy, We have three matching twin bed sets on the floor that might work for your customer. The picture of the bunk beds above shows the P J Kids set that I talked to you about. To make twin beds from this bunk bed set is simple. Just take the top bed off and swap one end (This becomes the footboard) of it for one end of the lower bed and you have two identical twin beds. The bed is made from birch wood and is painted white. The slat system is close enough that a foundation or box springs is not required and a mattress can be used. I only have this floor sample left of this style but it is still in good shape. We currently have it on clearance sale at $699.
The second option is the Oak bed pictured below. This bed is made in America (here in Colbert County). It is a headboard only with a metal frame and no foot board. We have two of those in stock. It is a dark oak finish on solid oak wood. Each bed would be $299 and if you are interested in the Night stand or Chest (4 Drawer) they are $249 and $399 respectively. These are very solid pieces of furniture that have no pressed wood in them.
The last option would be this Western Cedar Bunk bed that could, like the first set above, be separated to make two twin beds. In this case you would not switch the foot boards since all are the same size. The lower set would have a 1 inch hole in the center that holds the alignment pins for the bunk bed. The holes could be filled with some sort of finial or I could make a plug. This set is $799.
Note that we price all beds without mattresses since many people already have mattresses. I could deliver either of these options to your store or to the customer on my way to Ecru Tomorrow but I would be pretty close on time. The Log bed takes some specialized setting up that I would not recommend for the customer to try but I'll be happy to do it.