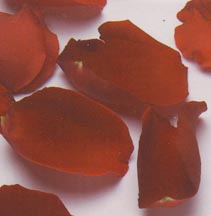 Charlotte Wolfe has created, in "Sweet Charlotte", a delightful collection of Recipes and presented them in this beautifully organized Cookbook. The cover alone will dress up your kitchen but the dishes you make from the recipes will make your kitchen like no other. Autographed copies of "Sweet Charlotte" can be ordered from TruloveStyle for $19.95 plus Postage and Handling ( plus 6.5% Tax for Alabama Residents). Enjoy the recipes ... share the tips ... and savor the sweet memories that come from sharing food and drink with those you love.

Sassy Sippin' - Chase away the chill of Fall with a steaming mug of Spicy Apple Cider and beat the Winter blues with a warm Snow Bunny-the drink, of course! When the heat of Summer gets you down, refresh your guests with a pitcher of Watermelon Margaritas or get really adventurous and pass a tray filled with tall, icy glasses of Wicked Woo Woos. That should get everyone's attention.

Taste Temptations - Want appetizers that will have your guests singing your praises for days to come? Try Onion Walnut Muffins or skewer up some Fruit Kabobs with a side of Margarita Dip. Everyone will rave over Smoky Barbecue Chicken Pizza and the elegant Grilled Salmon Summer Rolls with Spicy Citrus Dipping Sauce will have them falling at your feet.

Sweets for the Sweet - Who can resist a tempting dessert whipped up in your kitchen and served with love? Caramel Coconut Cream Cheese Pie and Peanut Butter Pound Cake are great choices for a rich, and unique, dessert offering. And the chocoholics in the room will be your "new best friend" when you serve the Chocolate Shirley or the melt -in-your-mouth Cappuccino Chocolate Layer Cake ...

Notions 'n Potions - This handy guide tucked in the back of the book is running over with helpful tips that you'll which you had known about long before now.

Peanut Butter Pound Cake

"The cake is just as good without the icing".

1 cup butter
2 cups granulated sugar
1 cup firmly packed light brown sugar
1/2 cup peanut butter, smooth or crunchy
5 eggs
1 tablespoon vanilla
3 cups cake flour
1/2 teaspoon baking powder
1/2 teaspoon salt
1/4 teaspoon baking soda
1 cup evaporated milk

Cream butter and granulated sugar until light and fluffy. Add brown sugar and peanut butter and continue to beat thoroughly. Add eggs, one at a time, beating well after each addition. Add vanilla and blend well. Sift together the dry ingredients and add alternately with the milk. Lightly grease a Bundt pan. Pour batter into pan and bake at 325 degrees for one hour or until it tests done with a toothpick.

Frosting

1/2 stick butter
Dash salt
1 ounce milk, or less (don't use too much)
1 (3-ounce) package cream cheese, softened
1/2 cup peanut butter, creamy or crunchy
1 box confectioners' sugar.

Combine all ingredients and beat until smooth. Use just enough milk to make frosting of spreading consistency.