Helen,

We know the Mahogany Roccoco bed will look great in your home. Thank you for your order.

The sofa table you looked at is pictured above. If you would like to have it delivered with the bed we can offer it to you for $157 and it can be delivered for free.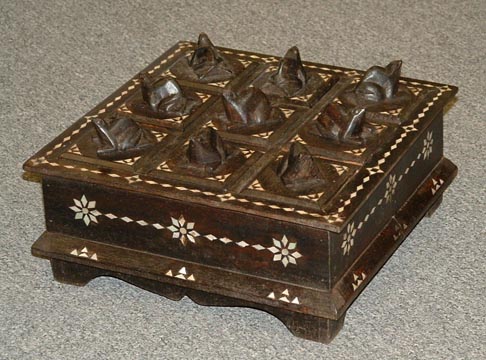 The Betel Nut box you saw is pictured above. The white decoration is inlaid mother-of-pearl. If you would like to see this in your home, I will be happy to put both the dark and lighter set in for you to see when we make our delivery. There would be no obligation for you to buy. The price of the Betel Nut Box is $57.
Again, thanks for your order. We look forward to seeing you again. David

Write Jona at jona@trulovestyle.com and let us know what you will be adding to your home next. Chances are we will be able to get you just what you want and at a better price that you will find at "conventional" furniture stores or boutiques.